Hello Community,
We updated the Auctiva.com site this morning. This was a light-weight update, with some internal changes aimed at improving site performance and availability. Most of these you won't see, although they will make the site work better overall.
One change that you will see is that we improved our Super Size Images. No, we didn't change the size of them; the maximum size for a supersize image is a still a very generous 1280 x 1024 pixels. What we did though is to redesign the page itself so that your images will be presented to your buyers in a much more attractive and appealing interface.
Here is a screenshot: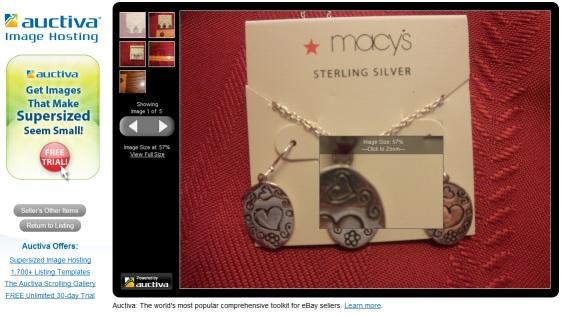 In this new design, the image size defaults to the size of the screen even if it is of the maximum size of 1280 x 1024 pixels. Then the buyer has the option of zooming in to get more detail or clicking to view full size and scrolling. It includes thumbnails of all your images for the listing it is associated with, and a link to view the rest of your items.
We are going to roll this Super Size Image Enhancement out gradually, to a few users at first and then spooling up to include all user's listings over the course of a few days.
Our last update was on September 28. You can see forum posts covering detailing the September 28 update at
this link.